Large 3 Wick "Campfire" Vine & Bloom Box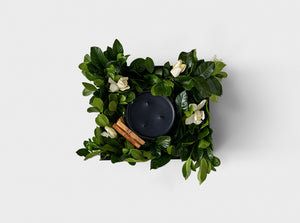 ROMA: LA CITTÁ ETERNA #beachCITYmountainvine The small wide wick campfire features High Camp's first offering from our Destination Fragrance Collection, #beachCITYmountainvine, and is quickly becoming a cult favorite. ROMA: La Cittá Eterna is inspired by the old world grandeur of the Eternal City of Rome, Mediterranean flowers in bloom and Italian citrus and the candle arrives in a gorgeous hand-painted glass vessel with a wide wood wick. Introducing itself with climbing roadside flowers lining the narrow roads driving into the city from the Amalfi coast, the fragrance moves like a symphony. Seaside breezes give way to the grand gardens of imperial estates, then finally the narrow cobblestone streets of Rome lined in ancient cement and stone buildings with giant wood patinad doors. Cashmere, suede coffee beans and tobacco mingle with moss. Drenched after the rain on an early morning walk, the rich history and layered sophistication of Roma is slowly unveiled. Delivered in notes of gardenia, tobacco, cedar, stone, moss, frankincense, and coastal neroli, our first CITY offering modernizes the gardenia to offer a unique subtle sensory joyride. Shipped straight from the farm with Palo Santo smudge sticks to complete this stunning and fragrant gift, sure to resonate in the heart of any recipient. Nestled among thirty freshly cut gardenias, is a gorgeous large-scale hand-painted glass candle with 3 crackling wood wicks. The ROMA: La Cittá Eterna scented candle is hand poured with black soy wax in a black glass vessel. Shipped straight from the farm with burnable Palo Santo. The Candle Vessel is 4.5 x 5.5", features three crackling wood wicks and is 1025 grams.
Basic Care
High Camp Gardenias are premium gardenias with waxy dark green leaves and extra fragrant blooms. Our gardenias are cut to order and sent FedEx priority overnight from our California farm for ultimate freshness. It is normal for gardenias to arrive a bit sleepy and thirsty. Simply snap the tips (like asparagus) and place stems in cool water. The blooms will open within a few hours and last for 3-4 days, providing a continuous fragrance that is singular to gardenias.

Nestled among thirty freshly cut gardenias, the Large 3 Wick "Campfire" Vine & Bloom Box features one of our new Destination Collection scented candles in our large-sized hand-painted black glass vessel. Our first City scented candle was inspired by the old world grandeur of the Eternal City of Rome and arrives with Palo Santo smudge sticks shipped straight from the farm.
WHAT CUSTOMERS ARE SAYING... I love love love my subscription, and love gifting it!! The best gift ever!!! The most amazing gift my husband has ever given me besides our daughter and his heart. It was one of the sweetest, most thoughtful gifts I've ever received. Gardenias are a favorite flower of mine, and I made three arrangements and spread the rest out in little vases in every room. The Magic House smelled like heaven…Talk about a gift that keeps on giving — these flowers will be a memory I'll never forget. Your boxes of gardenias are truly one of my favorite gifts to give and receive. Above and beyond what I expected… Rarely do you get in this age what you are promised and pay for… these are beautiful… my husband said he hasn't seen me this happy in a long time… thank you so much, every time I smell a Gardenia  I shall think of you… Believe me I will order again… What business has such amazing customer service anymore? I'm a client for life now. This was absolutely stunningly beautiful!!! Packed well, beautiful blooms, so mesmerizingly fragrant! I can't speak highly enough about this whole experience! The ordering, product, communication and delivery were flawless. Very pleasantly surprised, my Mom cried in happiness! Thank you so very much High Camp Gardenias for the best gift I've ever given and I have you to thank for that! I love you all! I don't know you but I love you! You are always the nicest and the best best joy arrives in the boxes you send. I was gifted one of your boxes by a dear friend. It was a beautiful experience that I want to share with others. Truly exquisite! This is the best thing I've found since caviar… So excited to find you! Bought some for my mom as she is dying and I wanted her to smell her favorite flowers while she is alove. The flowers came in perfect condition! The big stems full of bloom I put in a mason jar with water and the little blooms I put in a tiny snifter glass and a little bowl so they could float. Her bedroom is filled with the sweet aroma! I held them up to her nose and she smiled. Everyone who comes to visit mentions how beautiful the scent is. Thank you for delivering so quickly so she could enjoy it now!